I am so pleased to announce that our new book Divorce and Separation – Connecticut Edition is out now!
Divorce and Separation – Connecticut Edition: A practical guide to making smart decisions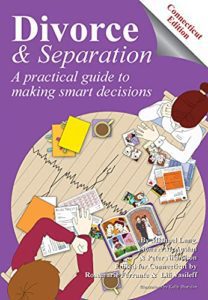 by Michael Lang, Peter Nicholson, Fiona McAuslan
Edited for Connecticut by Rosemarie Ferrante & Lili Vasileff
Divorce and Separation will help you work together through "mutual problem-solving." Using this method, even highly conflicted couples can develop smart decisions about separation, children, and finances. We help you and your spouse create these solutions through activities, guided lessons, and presentation of helpful information. The book is a guide to help you address key issues such as whether and when to separate, how to make smart choices and ways to structure your finances to provide for the family's needs.